Roseanne Barr says she 'lost everything' after being canceled for 'Planet of the Apes' tweet
Roseanne Barr has hit out at Hollywood in a recent interview, accusing cancel culture in the industry of a double standard.
The 70-year-old actress spoke out about her own cancelation in a recent interview with The Los Angeles Times this week, likening it to burning a witch at the stake and adding that she suffered far worse repercussions than comedians Louis C.K. and Dave Chappelle.
Barr slammed ABC for firing her and axing her sitcom in 2018, following a 02:00 AM Ambien-fueled tweet comparing White House advisor Valerie Jarrett to the offspring of the Muslim Brotherhood and the Planet of the Apes movies. The award-winning actress has since maintained that she had no idea that Jarrett was Black.
"muslim brotherhood & planet of the apes had a baby=vj," the now-deleted tweet read.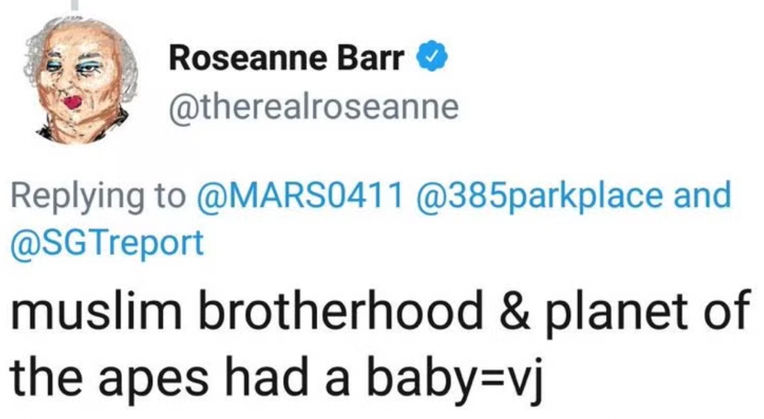 Credit: Twitter.com
The actress spoke about how the tweet forced ABC to cancel her show, which was reportedly one of the top shows on the network. "It was a witch-burning. They denied me the right to apologize. Oh my God, they just hated me so badly. I had never known that they hated me like that. They hate me because I have talent, because I have an opinion.
"Even though Roseanne became their No. 1 show, they'd rather not have a No. 1 show … When they killed my character off, that was a message to me – knowing that I'm mentally ill or have mental health issues – that they did want me to commit suicide," she added.
She claimed that she hadn't been given a chance to properly explain herself, saying: "During the initial call, I told them I thought [Jarrett] was white. I said I would go on my show and explain it. They wouldn't let me. They decided I was a liar in my apology."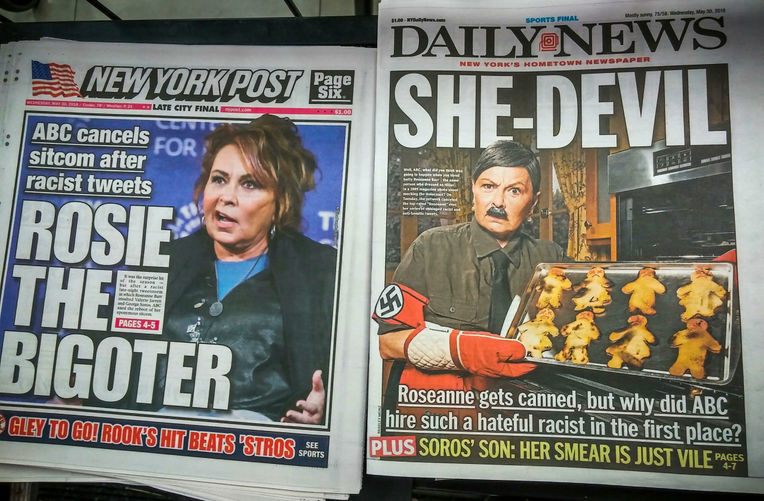 Barr dominated tabloid headlines following her 2018 tweet. Credit: Richard Levine / Alamy
Barr criticized other Hollywood personalities for being allowed to continue their careers despite having been canceled, admitting that she felt her life's work had been "stolen." She stated: "They didn't do it to anyone else in Hollywood, although they always throw in Dave Chappelle and Louis C.K. Well, Louis C.K. did lose everything, but he committed an actual [offense]. And Dave Chappelle was protected by Netflix."
(For reference, C.K. admitted in 2017 that he repeatedly masturbated in front of women associates, while Chappelle has sparked criticism and protest for his jokes aimed at transgender people).
"I'm the only person who's lost everything, whose life's work was stolen, stolen by people who I thought loved me. And there was silence. There was no one in Hollywood really defending me publicly, except for Mo'nique, who is a brave, close, dear friend," she added.
Following the public backlash, Roseanne's career had been tarnished. Though, she's apparently trying to change that with a new stand-up comedy show titled Roseanne Barr: Cancel This! which is set to premiere on Fox Nation on Monday (February 13). A documentary exploring her tumultuous career is set to debut on the same day.